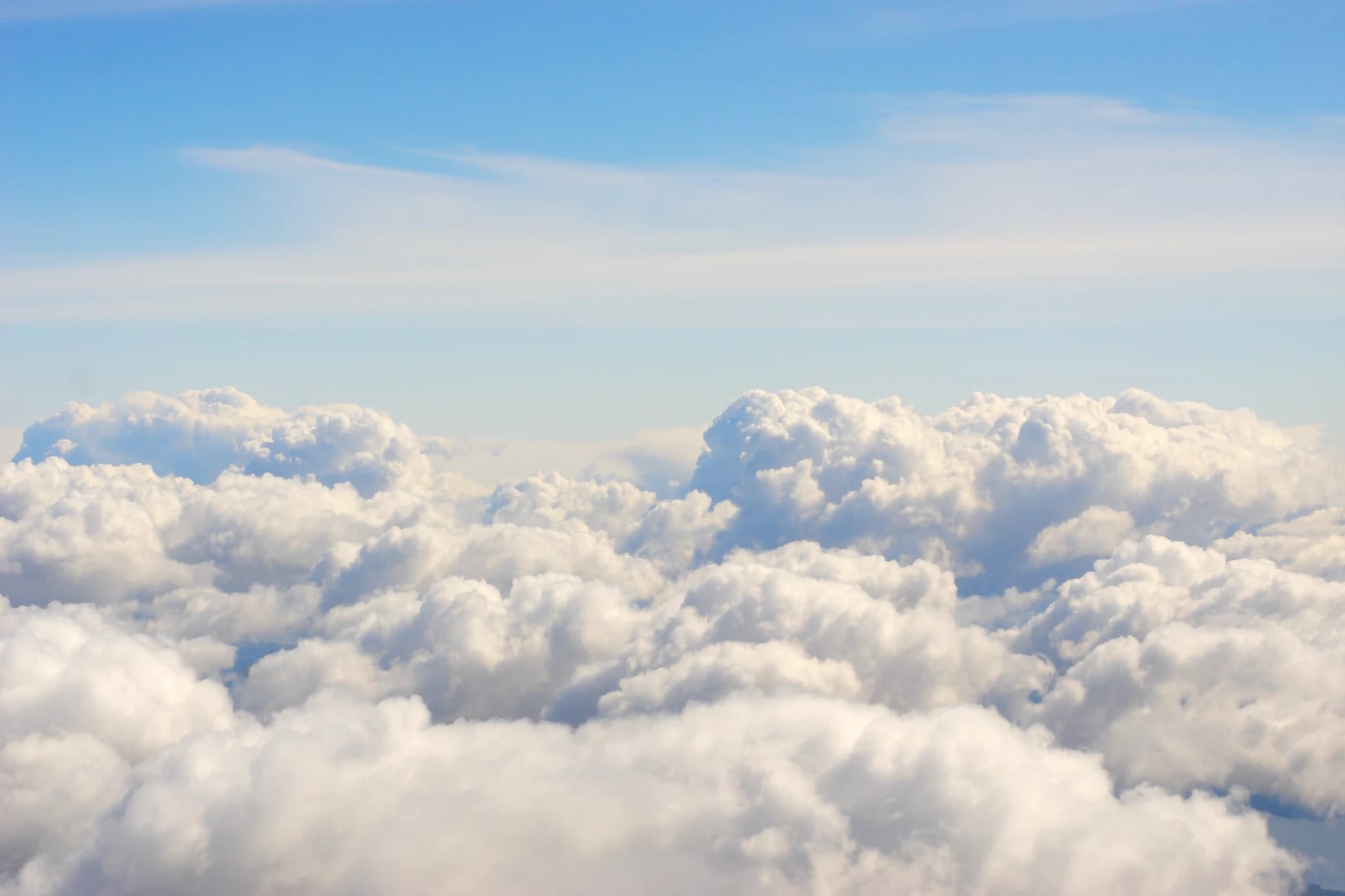 5 Ways to Use Word Clouds in the classroom
Word clouds are known by a variety of names. Including wordles, text clouds, and tag clouds. These fantastic graphics can reveal trends and allow you to present ideas, text, and concepts in a way that is eye-catching and compelling for students.
Are you trying to find the right way to use word clouds in the classroom? You've come to the right place! We've put together a list of 5-word cloud activities that you can run with your students.
1. Encourage connection to form a better environment
Help students connect with each other over questions that bring up shared experiences, opinions, and emotions. This is a great activity to give your students a chance to relate to one another in class. Here are some questions you can use:
In one word, how would your friends describe you?
What are your favorite hobbies?
In one word, what's your biggest goal for this year?
Who is the most influential person in your life?
What character trait do you look for in a friend?
Use the responses as a jumping-off point to talk about the things that make students unique. Ask students to elaborate on their responses. After sharing something personal in the anonymity of the word cloud, students often feel empowered to discuss personal topics out loud.
2. Word cloud activity as an Icebreaker
The first week of class is a great time to dive in with an icebreaker question. You can make the question as meaningful or nonsensical as you like. Don't forget it's important to phrase your question in a way that requires a one-word response. One-word responses are easier to read in the finished word cloud.
3. Start off with a do now
Do a pulse check and a quick read of the room so that students can share ideas at the beginning of a lesson. Here are some questions you can use:
Choose three words to describe how you're feeling today.
How would you describe the main character from the story we read about in the last lesson?
Take a look at this article and add two words that captivated your attention.
For this activity, give students a word bank to choose from by posting suggestions in a shared space. Ask them to brainstorm some words as a group or turn and talk to a partner before adding to the word cloud.
A do-now activity can feel low stakes for students but gives you useful information or examples you can point back to during a lesson.
4. Word Clouds for Pre & Post Assessment
You're starting a new topic/unit of inquiry. For example: Global Warming, Health, and Safety, Social Science, Language Arts, etc.
You show your students a few examples of a word cloud. So, they understand the concept of word clouds.
You ask them to create their own word cloud on the new topic. This activity is a great way to discover what your students already know about a topic.
Then, when you feel the time is right, end of the lesson/unit you ask the students to create a new word cloud on the same unit.
Comparing the old and new word clouds should provide a quick insight into the understanding students have gained on the topic.
5. Spotlight a challenging vocabulary word.
Just like a do now activity, this is ready for you to customize for grade level or subject area. After discussing a new topic, reviewing a concept, or reflecting on a previous activity, ask students to choose a few words that were challenging for them. Here are some questions you can use:
Which words do you often use when writing or when having conversations?
Which words did you struggle to pronounce, spell, or wrap your head around?
If another student is studying this topic, which words do they need to know and use?
Depending on the results in the word cloud, you can start a conversation with students about how to tackle challenging words, or you might decide to revisit these words in upcoming units of study.
Are you looking for an online tool for creating word cloud activities with your students?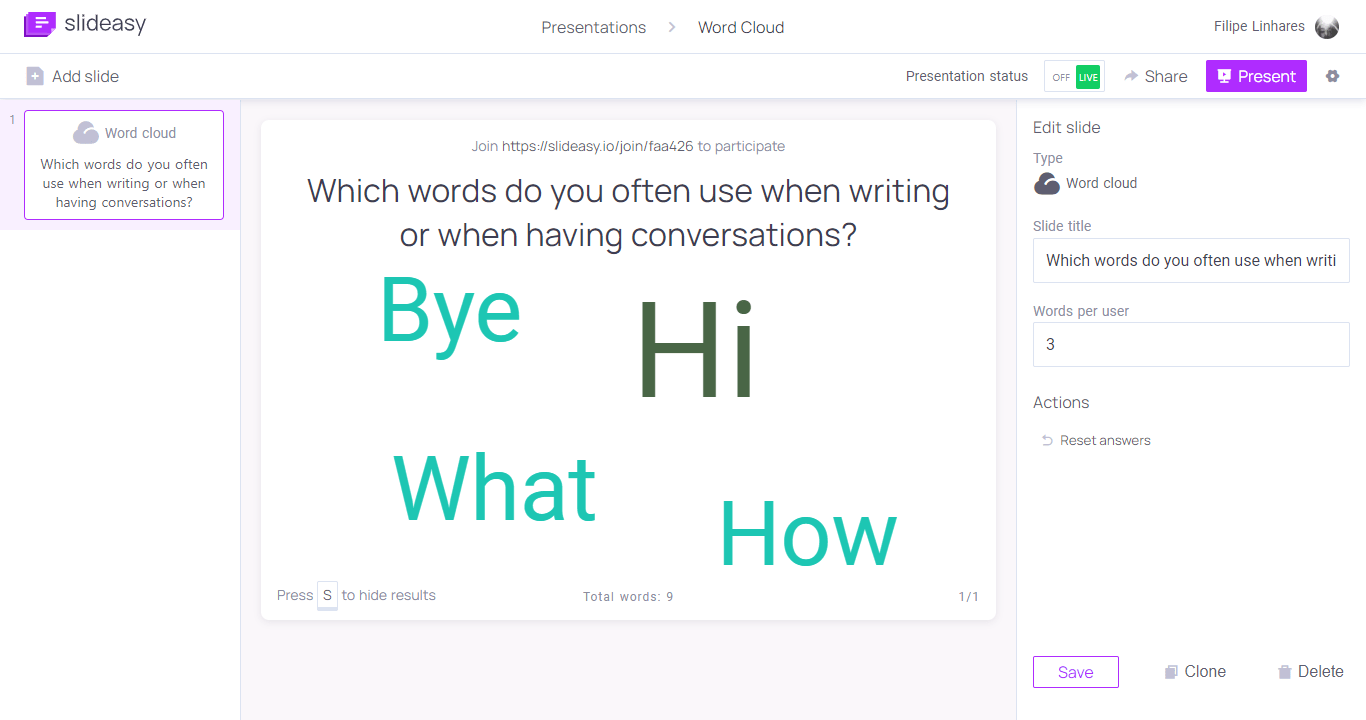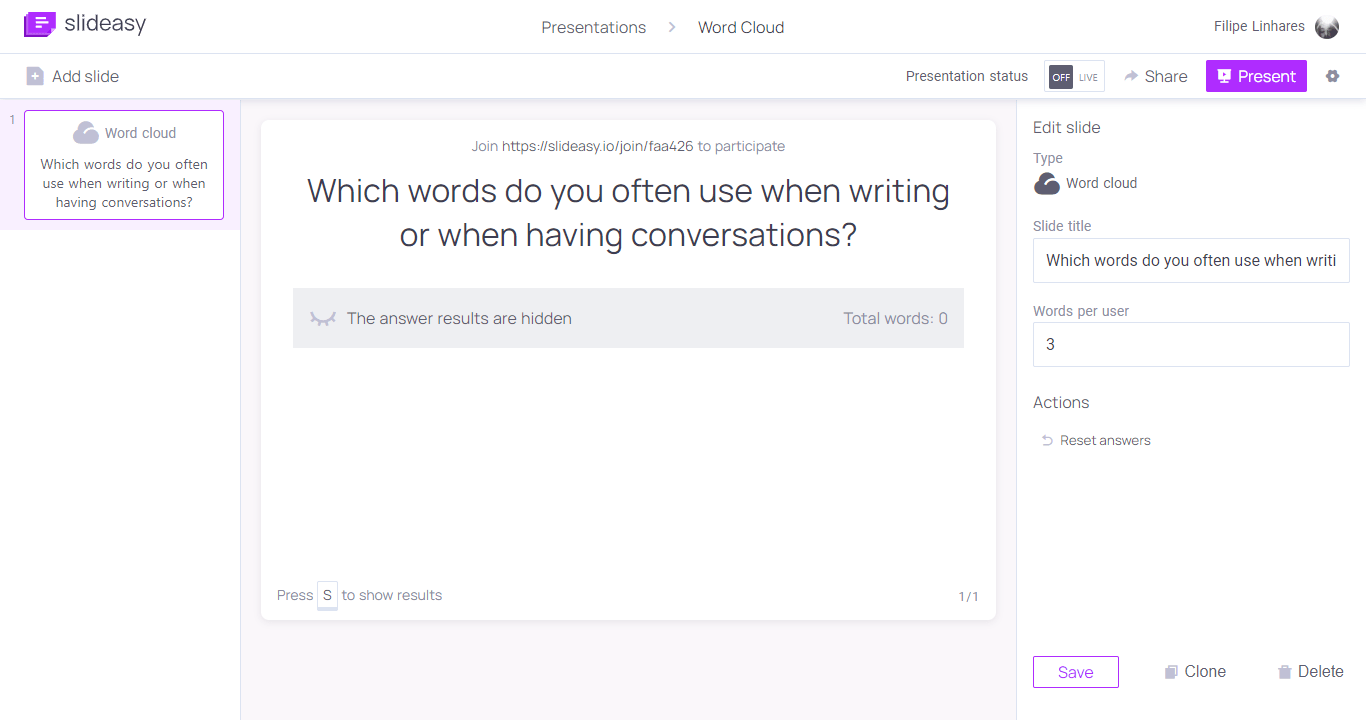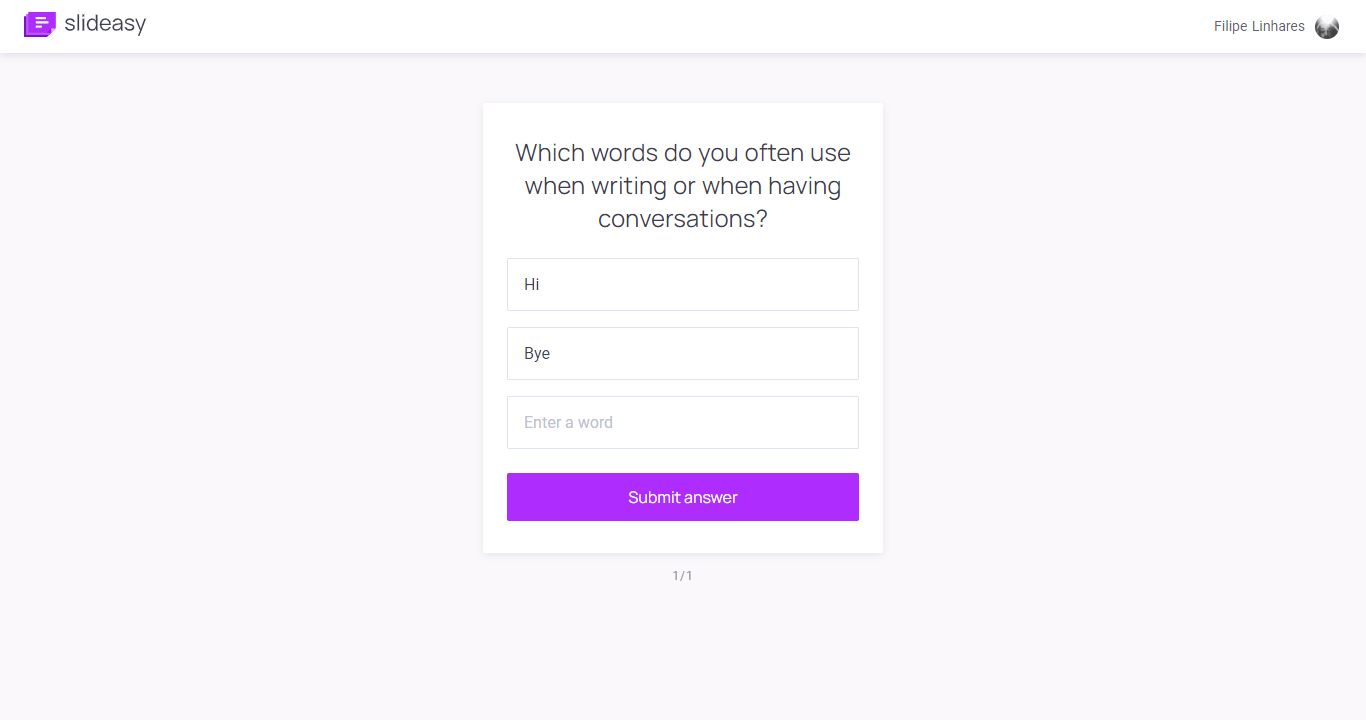 Slideasy makes it easy to engage and receive feedback from your students. With this tool, you can create free presentations with multiple-choice questions (polls), word cloud activities, text questions, and more. Click here to check!
Multiple choice

Create your own multiple-choice question. Make a question and add unlimited options.

World cloud

Create a word cloud activity and add it to your slides. Everyone will see the words live.

Static text

Add and format text to organize content in your presentation.

Text question

Allow your audience to ask questions or challenge them to send ideas during your presentation.