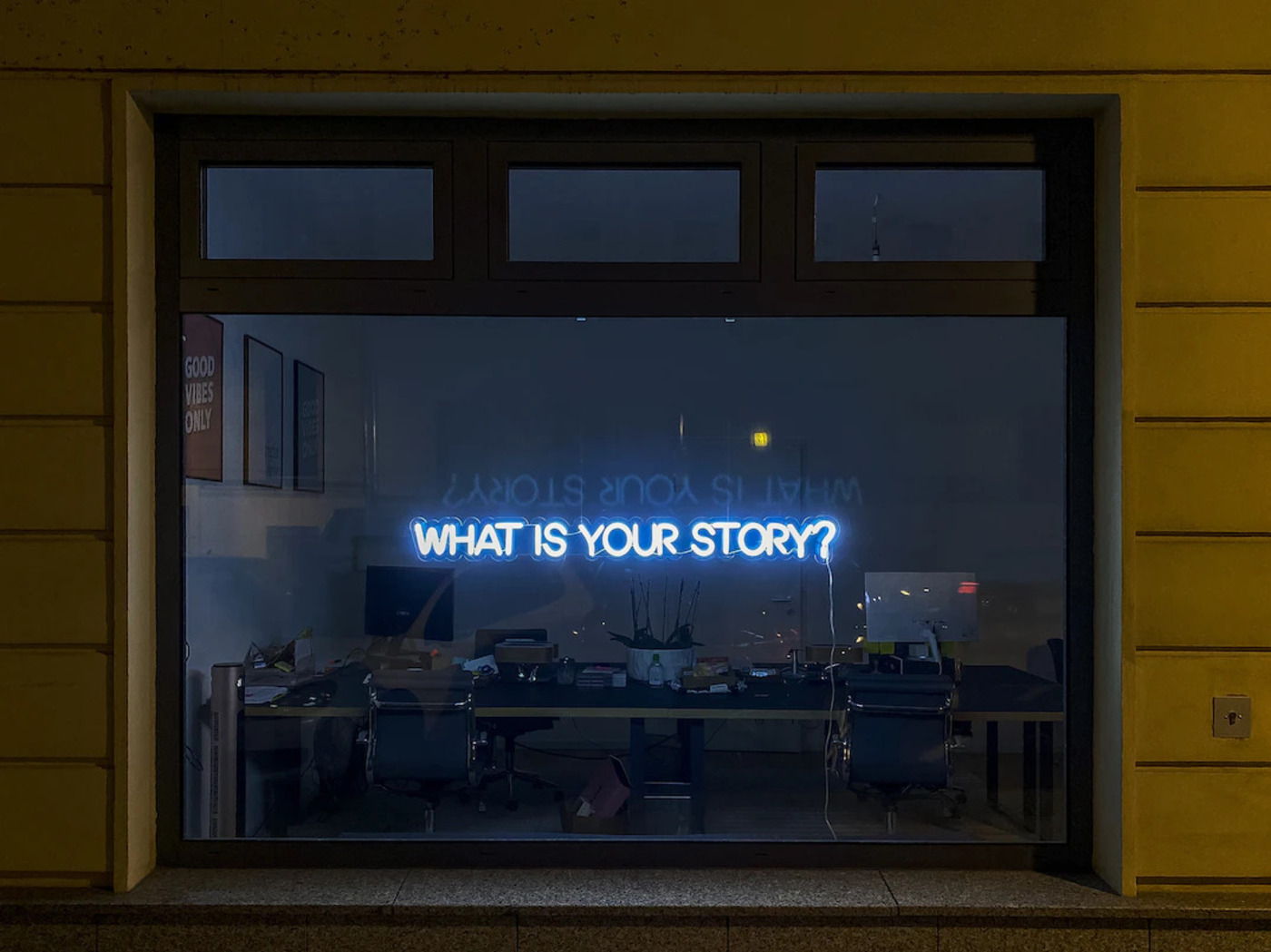 Live Question And Answer
When you are giving an online presentation, a live question and answer is a great way to keep your audience engaged.
People can easily lose focus during presentations! You need to ensure that you have ways to keep your audience engaged and involved in your presentation.
One of the best ways to do this is to introduce some interaction! With Slideasy, this process becomes simple, and you can elevate your presentations with ease. Help your presentations stand head and shoulders above the rest with this platform.
As an employee, boss, or guest speaker - you want your presentations to impress. A live question and answer is an excellent way to do this. So let's look at how this works.
How Does A Live Q&A Work?
A live question and answer session allows for real-time interaction between you and your audience in a way that standard meeting proceedings don't.
The sessions become a part of your presentation and this seamless integration makes your presentation better.
Get inventive with your presentations by understanding how a live Q&A works.
Asking Questions
Interactive presentations are a great way to catch and keep your audience's attention. This effect is amplified when you are asking your audience questions.
Facilitating a live Q&A session means that your audience has to give you their full focus. Rather than simply sitting back and passively listening, the audience will be incentivized to engage with you. .
This gives you a huge advantage. Not only does it make your presentation stand out, but it means that your meetings or presentations are likely to be more productive.
When you use Slideasy for your live Q&A, questions will pop up on the screen, and meeting participants are given the option to answer.
Because this is live, you need to be able to see the results in real time, or else you lose the captivating aspect. With a live Q&A, the results show up instantaneously, allowing your audience to see the responses immediately.
This adds an element of fun to the presentation! People in the meeting can see how others are responding to the question immediately.
Slideasy has a moderation feature, which is essential, especially in large meetings. You can blacklist inappropriate words and expressions to ensure that your meeting stays professional.
Another option is for answers to be filtered through a designated person acting as a more in-depth moderator. This means that there will be a slight delay in the answers popping up, but can be helpful if you need greater control over what your audience says.
Doing this allows you to reap the benefits of anonymous answers without the risk of people taking advantage of that anonymity.
Accepting Questions
The other main way of using the live question-and-answer feature is for meeting participants to ask questions that will then pop up on the screen.
This gives you the ability to see what people are curious about. It also allows everyone in the meeting to see the questions.
You can answer the questions yourself, or you can open it up to the floor.
Because of the nature of these live question-and-answer features, you get greater collaboration. This means that your meetings and presentations won't simply be one-sided lectures.
You can turn them into an invaluable use of time, rather than leaving people feeling like the meeting could have been an email!
Using a live Q&A builds a level of interaction between you and your audience that might not have been there otherwise.
With the recent shift to online meetings, it is vital to keep adapting and using technology to enhance your digital communication.
This strategy also allows you to integrate questions into your presentation, rather than having to save them until the end.
You can also set aside segments during the presentation when you think questions might be likely.
You can also have people ask questions throughout the meeting which are then stored for you to address at the end of the meeting. Different meetings require different strategies, so pick what you need!
The anonymity of the question process also means that people are more likely to ask honest questions, instead of getting shy or feeling they are asking a 'stupid' question.
Having a live Q&A means that people are invested in the outcome. The initial novelty will encourage participation. As people see how effective this tool is, it will likely be adopted more widely.
Benefits Of Live Question And Answer
Now that we have an understanding of what a live Q&A looks like, let's answer the why.
Why should you be using live question-and-answer software in your online presentations?
The way that questions and responses are structured means that your audience is more likely to be honest. Asking direct questions can make people feel shy or pressured.
Less pressure will translate into a greater number of respondents. This means that you can collect more data and have a greater insight into the response to your presentation.
You will be able to see what aspects of your presentation are unclear or need to be elaborated on, and you can build better presentations.
Apart from the engagement aspect, there is something inherently fun about answering a question and seeing your results pop up on the screen.
If you are using this to allow your audience to ask questions, the anonymity aspect becomes even more relevant.
How often have you been in a meeting and wanted to ask a question? Were you too scared to ask it in case it seemed stupid?
With a live Q&A, audience engagement will be anonymous. Their questions will be answered without them feeling embarrassed.
After all, if one person is wondering something, it's unlikely that they are the only one!
Live Q&A software fosters productivity and collaboration. Rather than sitting on their questions, your audience can ask them interestingly and innovatively.
This software works on all different online meeting platforms, ensuring that you can reap the benefits no matter what software you and your team use.
Standing Out
Meetings can often be boring, and can feel like a chore. Injecting a little bit of fun into your presentations can be an absolute game-changer. People are more likely to look forward to your meetings if they are engaging!
As an employee, engaging presentations can earn you some attention from your managers. Anything that sets your presentations apart from others can help you to stand out.
If you're a guest speaker at an event, a good presentation can earn you more business!
As a manager or a teacher - this software will help your sessions to stand out. The people attending your presentations will be more engaged, and will be more likely to benefit from the content of the meeting, class, or presentation.
How To Do A Live Question And Answer
Now that you see the major benefits of a live question and answer session, let's look at how to implement one.
While it might seem complicated or intimidating, you can sit back knowing that it's a breeze.
With minimal effort, you can reap all of the benefits of a live Q&A. You simply need to create an account with the software of your choice, and you can start using interactive slides at no cost.
Simply select the kind of slide that you want to use. For example, do you want the text option or a multiple-choice option?
Once you've selected your desired slide format, all you need to do is type up your question.
Because the slides are interactive, your audience will be able to click on them and type in their answers.
After using live Q&As, you won't want to host a meeting without one!
Easy-to-use software allows the focus to be on the content of your presentation or meeting, rather than complex technical issues.
Ensure beforehand that your audience understands the software. They should have a good understanding of how to use it and should be confident in their abilities to engage with it before the meeting.
Consider a test run before the presentation, to ensure that audience members can use it to their benefit during the session!
Use Cases For A Live Question And Answer
The potential uses for live question-and-answer software are almost limitless.
Every business is different and has different needs. Figuring out how to best use live Q&A software can be extremely beneficial to all businesses.
But, how so? When is the best time to use a live question-and-answer session?
Let's discuss some ideas that might inspire you!
Starting a New Project
One of the best times to integrate a live question-and-answer session into your presentation is when you are beginning a new project.
When you've been working on a new project, you learn all the ins and outs.
But that doesn't mean that other team members or colleagues know all the details about your project.
In a meeting where you are presenting your project, there will likely be many questions about logistics, details, and goals.
Rather than a messy influx of questions at the end, you can collect the questions you receive as they are raised. After the meeting, you will be able to go back and look over them, and use this data to potentially improve your project.
Collaboration is key when it comes to optimizing businesses. Anything that allows you to do that more efficiently is a game-changer.
Q&A software should record the time that a question was asked or answered. This means that you know exactly when you need to make yourself more clear to resolve any confusion.
Planning A New Strategy
Using a live question-and-answer format also allows you to be very clear about the goals of your new strategy. It allows everyone to get on the same page.
Once someone has asked a question or answered one of your questions, you can use this as a starting point to develop any ideas that you draw from the information.
Questions can be very insightful into what people believe about a topic. Using this for strategic planning can be enlightening!
By fostering more direct communication, live Q&As allow everyone to take part in refining the strategic direction you are going in.
No matter how prepared you are, hearing other opinions will help you to further strengthen your strategy.
Launching A New Product
Much like a new project, a new product launch needs to be well-conducted and understood by all the relevant people.
Before you can send your product out to the public, you need to know how it's going to be received.
The first stage of this process is presenting it to your coworkers and getting questions about the product in real-time.
Another excellent use of this software is in focus groups when you are beginning to introduce your new product to the general public.
People are more likely to share their honest thoughts about your product when their answers are anonymous. It also allows you to ask very targeted questions to collect the most important data.
Review Meetings
On the other end of the spectrum, having a live Q&A in a review meeting is an excellent way to check what issues people are having, or what issues need to be addressed.
Whether this is a yearly recap or a review of a specific project or strategy, fostering engagement is essential.
You want feedback on the success or failure of your enterprise, rather than people just listening to your summary.
Final Thoughts
Live Q&A sessions can change the way you facilitate meetings and presentations. They can engage your team or audience, and uncover honest answers about strategy and products.
When it comes to live question-and-answer software, Slideasy stands out as a key player. This is due to their ease and functionality.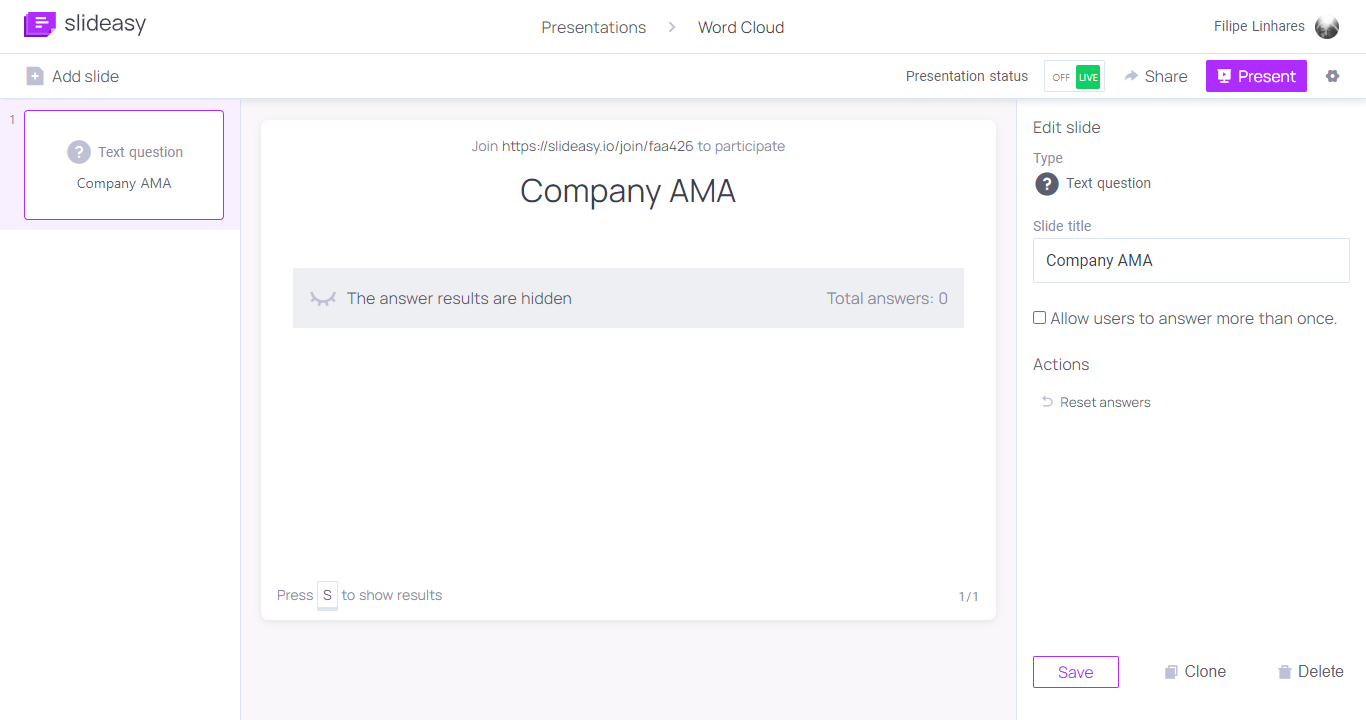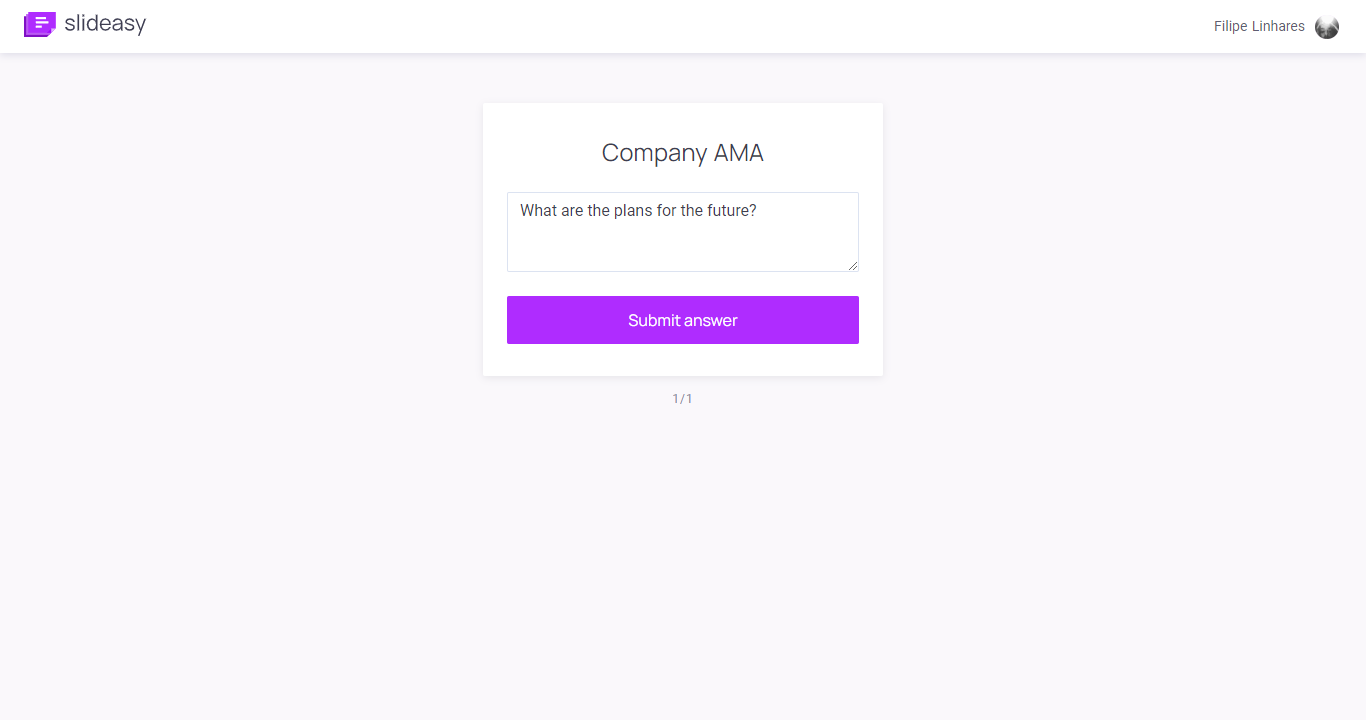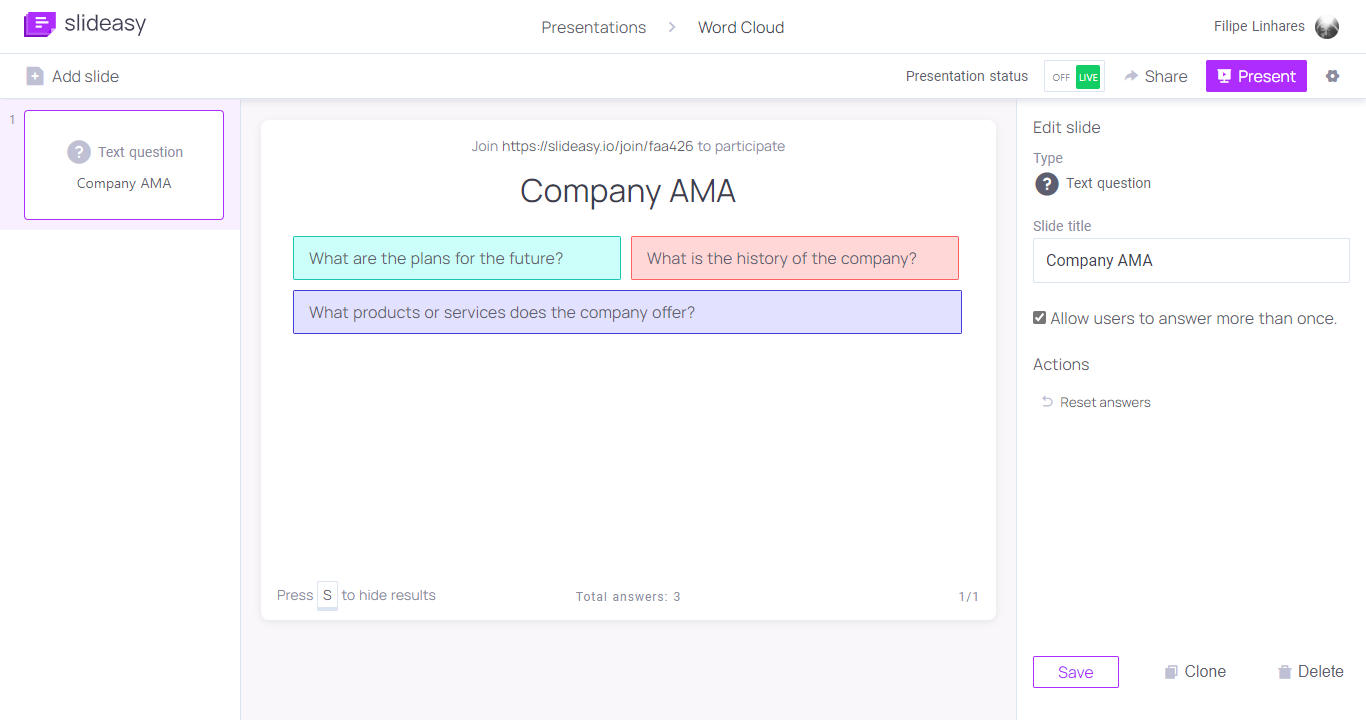 Using this software, you can elevate your presentations, and foster productive engagement and communication.
Multiple choice

Create your own multiple-choice question. Make a question and add unlimited options.

World cloud

Create a word cloud activity and add it to your slides. Everyone will see the words live.

Static text

Add and format text to organize content in your presentation.

Text question

Allow your audience to ask questions or challenge them to send ideas during your presentation.